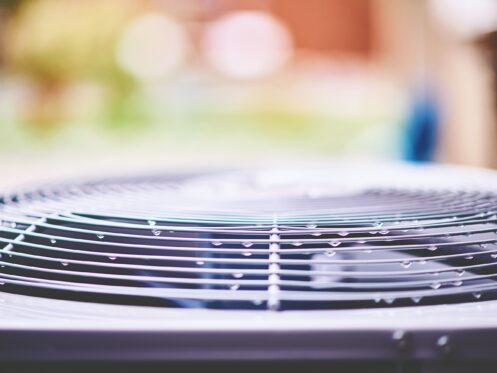 Your air conditioner works hard to keep your Rome, GA, home cool. Over time, your system's performance and efficiency are likely to decline. When your system nears the end of its lifespan, you may notice that you're spending more on utility and repair bills. If you notice that maintaining your current A/C is becoming more expensive, it's probably time to install a new air conditioner. If you're looking for a new air conditioning unit, one option to consider is choosing between electric and gas central air. At Hitchcock Heating & Air, our team can help you choose the best system for your home.
Signs You Need a New A/C
Before your home's A/C unit fails, you may notice some warning signs. One of the most obvious warning signs is warm air blowing out of your vents. If your air conditioner pumps warm air into your home, that may indicate a refrigerant leak or malfunctioning compressor.
Your air conditioner also may not blow enough air into your home. If your cooling system can't pump enough air to your entire home, you may have a clogged air filter. When the unit's air filter gets dirty, air can't pass through the fibers. Eventually, the clogged air filter reduces the airflow. Over time, this can cause premature wear of your system and a burnt-out fan motor.
Reduced efficiency is another common issue that suggests that you could benefit from a new air conditioner. If your system is running more frequently or you notice an increase in your warm-season utility bills, these are both signs to consider a more efficient upgrade.
Types of Central Air Units
When shopping for a new central air unit, you may see systems that run on electricity and others that run on gas. Many clients ask us how electric central air units differ from gas-powered units. Although both types of central air units are part of your home's HVAC system, each type uses a different power source. In many Georgia homes, central air conditioning is provided by a combination heating and cooling system called a heat pump. If you are seeking to replace your own system, this is a good option to consider.
When you select an all-electric central air unit, such as a heat pump, the system uses electricity to cool and heat your home. Both the outdoor condenser and the indoor furnace use electricity to operate. Many customers find that they save money on utility bills with an all-electric system. Electric air conditioners also offer greater energy efficiency in warmer climates, like here in Georgia.
In contrast to an electric system powered solely by electricity, a gas central unit uses both gas and electricity. Gas-powered units use natural gas or propane to operate. These systems are commonly heat pumps instead of standalone air conditioners. These systems offer both heating and cooling features. In cooling mode, the unit uses an air intake system to pull air from outside. The air passes over the coils inside the unit. These coils contain refrigerant, which pulls the heat out of the air. The unit then forces the cooled air through your home's ductwork and into the individual rooms.
Selecting a New Central Air Unit
If you're shopping for a new central air system, your first consideration should be the type of system you currently own. If you currently have an electric unit, replacing it with another electric unit is the easiest and cheapest option because the needed connections are already in place. If you currently have a gas-powered system, then replacing it with another gas unit is the best option for the same reason. By replacing your current air conditioner with the same type, you will save money on installation costs because your installer can complete the job much more quickly.
Customers interested in switching to a different type of central air unit may discover that the process takes more time and work. Switching from electric to gas central air may involve installing or modifying gas lines. The old electric A/C must be uninstalled and disposed of safely. An experienced technician also may need to modify the electrical panel after removing the electric air conditioner.
Switching from gas central air to electricity also presents extra work. The technician must uninstall your current gas unit and cap off the gas line. If the circuit that feeds your current, gas-powered air conditioner doesn't support an electric central air unit, you may need to hire an electrician to install a new circuit with additional capacity. This electrical renovation may also need to be inspected by your local city or county before you can use it.
Budget-conscious customers may want to also consider the long-term costs associated with electric and gas central air. Electric-powered air conditioners typically have fewer parts to maintain. These systems tend to be less complicated than gas-powered central air systems. With a gas central air unit, a trained technician must regularly clean and service the burner, pilot light, and valve to prevent the unit from breaking down.
If you're concerned about climate change, an all-electric central air unit may be a great choice. Customers who already use solar, wind or other renewable energy sources in their homes can further lower their carbon footprint by choosing an all-electric central air unit. Many customers select a gas-powered central unit if their local gas prices are much lower than local electrical costs. However, customers should be aware that these units do emit greenhouse gases. Keep in mind that both gas and electric prices can change over time, which means that the type of air conditioner that provides the lowest utility bills may also change.
When you schedule an assessment with one of our technicians at Hitchcock Heating & Air, we will walk you through the pros and cons of choosing the right power source for your home. Our HVAC experts will consider your home's age, size, and construction to determine the appropriate air conditioner for your needs. Factors like the number of windows, insulation type, and building materials can affect our recommendation.
Count on Our Team for All Your HVAC Needs
At Hitchcock Heating & Air, we opened our doors in 1987. Since then, we have established ourselves as a top HVAC company in Rome. We offer more than just new central air installation. Our trained technicians can handle all your HVAC maintenance and repair needs. You can contact our team to schedule your annual tune-up before the summer heat hits. Our team of professional, friendly technicians has the expertise you need to diagnose any problem. If you have an older furnace or air conditioner, we know how to identify and repair your unit. When it's time to purchase a new furnace or central air unit, we offer top-notch installation services. We can install a new, energy-efficient electric or gas central air system in your home. If you're interested in upgrading to smart home technology, we can recommend a unit that works with your smart home system. We also provide air quality services.
Contact Hitchcock Heating & Air in Rome today to learn more about a new central air unit.